Yes, its for real! Yesterday was an EPIC powder day.
Tomorrow is shaping up to be yet ANOTHER epic day!
Here is a video clip (no, its not me, but it is some of my colleagues with the Steamboat Ski School)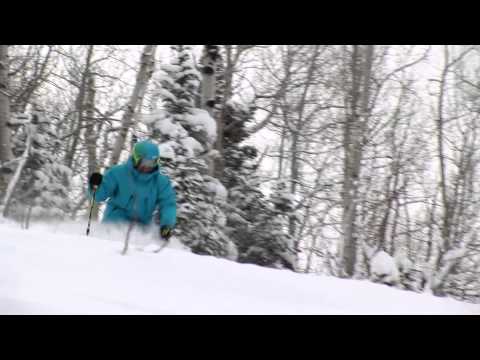 I have some of my own pics below. I spent much of the day in "black diamond tree runs" (and my left knee today is reminding me of that!) My first run was on a trail called "no names" – one of my friends took me up there – its a DOUBLE BLACK DIAMOND run – and I had to be nuts to even follow him! We actually had to hike up a hill to get to it. It was some of the steepest (and sickest terrain I've seen – EVER.) Truth be told, he is an *incredible* athlete (and 1/2 my age) so when we got in there, he was "off and running" and I was at the top of a chute with a 55 degree pitch! I managed to survive my "side-slide" down the chute (which later in the day several instructors admitted they also have done at that point in the trail!), but after then I had some of the best untracked powder skiing I've ever experienced!  The rest of my day was spent in and out of tree runs of the single black diamond variety – and some of the powder was CHEST deep! In short… Steamboat Rocks! 
Did you see the report on the U.S. economy today (1/30/13)? Contraction?! And… did you see the reaction of gold and silver to this news? If you have not already seen my post, you HAVE to see this... http://alansills.com/home/gold-and-silver-the-time-is-now/