Something just happened in our nation – something that concerns me greatly
Allow me to share a few charts – no, not "wonk talk", instead, plain simple talk that makes these graphs easy to understand AND their implications. 
Watch this video first – THEN – don't miss my commentary below the video (not what you're expecting!)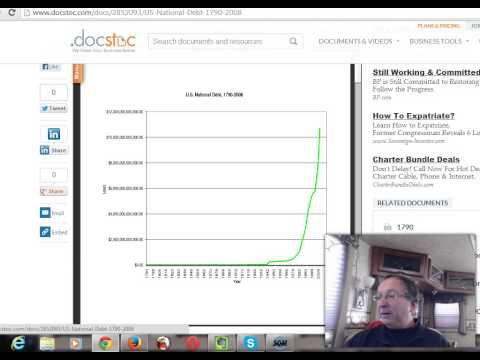 George Washington and his rag-tag "troops" NEVER should have won the Revolutionary War! 
Really! What happened during the Revolutionary War amounted to a series of miracles – one after the next as the American colonists defeated the worlds greatest army (perhaps of all time up to that date). Further, the choice made by the colonists to take on the British army, was NOT really rational at all! Consider the FACTS that at that time, the American colonists enjoyed the HIGHEST standard of living in the world (refer to my video to compare it to where we are today); and the taxes being imposed by the King of England were primarily to provide security to the colonists – and those taxes were MINIMAL by today's standards! In fact, the King in order to keep the colonists happy, was willing to "deal" (sound a little different from a current King??) Yet, the colonists KNEW that FREEDOM was *that* important. And as they say, the rest is history!
Know that I'm getting much of what I just shared from The Covenant – by Timothy Ballard. The author is a man whom I met at the "Man in the Moon" event in Salt Lake City this past July. I *highly* recommend his book as not only a GREAT read, but as inspiring and sharing a side of history most of us simply have not heard before. Briefly, Ballard builds a (very solid) case showing how our Founders were inspired by God at each and every juncture as they formed a new nation – one perhaps more inspired by the Almighty as much as the nation of Ancient Israel.
Why is any of this relevant today?
The principles espoused by our Founding Fathers paved the way for most prosperous nation the world has ever seen to rise – and rise quickly. As we abandon those principles, we see the decay evident throughout our nation. One bright ray in all of this… I remain convinced that MOST Americans are basically good. As broken as politics within the "beltway" is, I believe most Americans simply want a better way of life for themselves and their children.
In that spirit, another author I have eminent respect for, Mark Levin, recently wrote "The Liberty Amendments" – a "blueprint" for how to regain control of our nation by WE THE PEOPLE. This book will help you to understand how "Article 5" of the United States Constitution can be employed to (really) fix the mess we now find ourselves in! Note in my video I referred to recent "continuing resolution" bill passed by Congress (Oct 2013). This bill does NOT simply "kick the can down the road" for 3 months – it has what I believe is a "poison pill" built into it.
Did you know…
The bill that Congress passed has NO specific debt limit in it? So, does that give the Executive Branch  "cart blanch" to spend as it sees fit? I'm no expert, but it looks that way to me. Further, some have suggested that when Feb 7, 2014 rolls around (and don't think things will be solved a MINUTE earlier), and Congress wants to "re-establish" a debt limit (dollar figure), some interpret the bill now signed into law as Congress will propose a limit which the President can veto thus FORCING the Congress to a two-thirds vote to over-ride his veto in order to maintain their CONSTITUTIONAL POWER of control over the budget! I can't find a link to it, but will add one should I find it. (Have you SUBSCRIBED to my site here? Look to the upper right of the page and join if you'd like to receive updates – and information on how to grow your income FROM HOME.)
As I write this, the Washington Times reports that U.S. Debt jumped OVER $300 BILLION in ONE day. Folks, you CAN'T make this stuff up!! What does that do to us (you and I)? Simple, it can only act to further devalue our "currency" – the U.S. dollar. Have you considered GOLD and SILVER? (Contact me directly to find out who I go to for these commodities.)  
That leads me to my final point in this post…
What are YOU willing to do about it? (I am now referring to YOUR personal situation)
I say "willing" because we are ALL "able" to do something. I just had a conversation with a young man about history and perspectives. The assembly line model of the late 19th/early 20th century changed our national perspective. Prior to industrialization, MOST Americans were entrepreneurs (farmers, blacksmiths, shoe-makers, bakers, etc…) With the advent of factories, Americans became EMPLOYEES. And lets consider how THAT has worked out for most… today MORE Americans rely upon government assistance than at ANY time in our history. Further, and this is certainly NOT ground breaking knowledge – most Americans live "hand to mouth" – that is to say they are one to two paychecks away from being in REAL financial trouble. But…
I believe the Internet has provided fresh opportunity to become an entrepreneur
Today, with some basic skills in website development (building a site and driving eyeballs to that site), along with some marketing  knowledge and an 18 year old at his mothers kitchen table can create a long term viable and stable residual income. I've seen this happen!
The greatest obstacle for most? Belief! We are raised to believe that REAL work involves the exchange of "hours for dollars".
Jim Rohn challenged this with his statement "Profits are Better than Wages"
Profits are earned by entrepreneurs, wages by employees. Employees trade money for the most valuable thing they have – TIME. For myself, I firmly believe in residual and leverage. I welcome you to contact me to discuss what I'm doing that IS working. I will share a couple of links below that reveal my strategy – and how YOU can do it as well. (Oh, and CONSIDER the TAX ADVANTAGES of being an entrepreneur vs. a "W2" employee… if you don't know, you must find out!
A couple of things I want to bring to your attention…
Earlier, I mentioned Website development – here is a classic example…
As you review my site, note how I am 
Providing value for the reader

Monetizing the site (creating a way for the site to produce income for me)

Structuring the site in a way that will drive "eyeballs to the page"
One last thing… computer security – this is too good an offer to miss…
Yes, you read the ad right… its normally $80. on sale for $30!