Marketing your business has never been "more scientific". Back in the stone age, business owners had to purchase expensive newspaper and yellow pages ads, and never knew how many potential (and interested) buyers were ever visiting your "page". 
Enter the Internet and Keyword Research
How do most folks search for information and what they want to purchase today?
GOOGLE!
Simply put, google is the 800 pound gorilla in this world! All you and I do is think of a word (or short phrase) to enter into google, and google returns what we asked for. These words are called "keywords".
Know what?
We CAN know how many people are searching for specific keyword terms AND how tough it would be to rank on page 1 with OUR website to be found when folks do a specific keyword search. Here is a video that shows how that happens…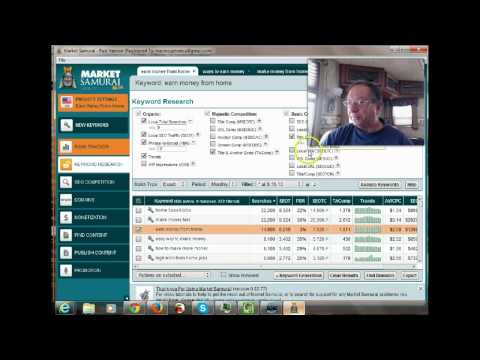 Ok, a few concluding thoughts…
Here is the pleasant surprise – 
But first, I want you to be aware of this promotion currently running in the world of computer/tablet/phone security…
SAVE $50 on Webroot SecureAnywhere Complete 2014. Only $29.99 (Reg.Price $79.99) Complete protection for your PCs. Limited Time Only!
Honestly, this is a GREAT deal! I myself have used Webroot for years. Why? Simply put, it does not slow down my computer and consistently ranks at or near the top of security solutions that remove and prevent threats. At $30. this security suite is a STEAL! Click the link above to get yours today – covers up to 5 devices.
Now – back to keyword research. Understand that the cost of Market Samurai is about $100. – this is a one time fee. So, if you plan to launch more than one website – or even optimize multiple pages within one site, you NEED a tool like this. Honestly, your biggest "investment" is time – NOT money. As I develop TWO new websites optimized for keywords that I identified and chose based upon the information I gathered in Market Samurai, my only other "hard costs" are the purchase of those domains (I use GoDaddy and pay about $12. for each domain I purchase – for a year.) My hosting company, for about $8 per month allows me to add as many domains and websites as I please – so, after the first, NO additional fees are encountered when you add a domain. 
In closing – for now, I want you to know I am available to support you through the entire process including keyword research OR to do this for you for a reasonable fee. I know as a business owner, your time is valuable doing your #1… producing and offering your "wares" to your buyers.