Or…Picking up where Walt Disney Left Off…
And so it begins…
An event that I reserved a seat for months earlier – with no real idea of what he had in mind. 
He…who? 
Glenn Beck. A visionary, historian, and clearly one of the most creative minds I have ever met. (And, yes, I DID meet him during the course of the 3 day event – actually twice!)
There is something you learn when look directly into someone's eyes and see their interaction with "ordinary" folks around them. All I will say here is Glenn Beck is the real deal. 
This first video is a theatrical introduction to the Man in the Moon event. Honestly I don't know if there is any symbolism to the performance, other than an illustration of great choreography. Perhaps you the viewer will see something in it that I missed – and then you can illuminate me via the box below where you can share your thoughts and insights. 
Overall, Man in the Moon is a performance that tells a story – a story that ALL alive today need to be reminded of – and knowing is the first step towards doing.
Note: If you have not seen the first 3 posts in this series from the Man in the Moon event held in Salt Lake City over Independence Day weekend 2013, you can START HERE.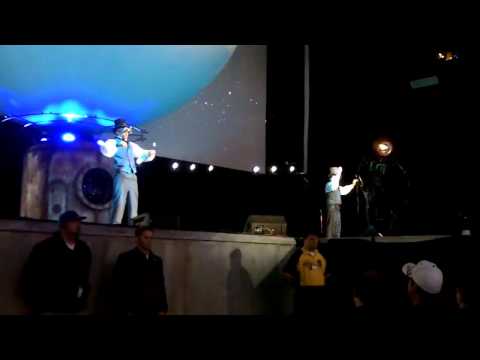 "A Nation in Distress" – This is a truly unique combination of live theatrics (circqe-du-soleil), with a traditional unveiling of the American Flag, and then you see the flag upside down – NOT by accident. Think of the symbolism. (The performers are about 50 feet in the air, and yes, they are UPSIDE DOWN.) All at the beginning of Man in the Moon. (Oh, and at the end, they are NOT actually walking.)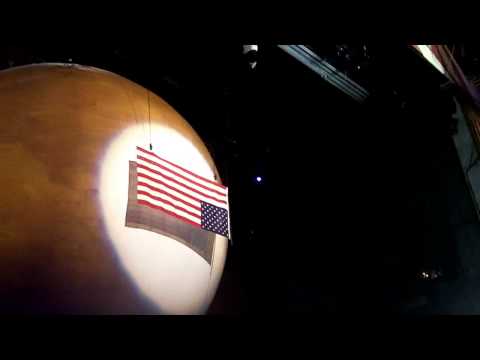 Glenn Beck introduces Man in the Moon, sets the stage, and shows off the technology a bit. There were about 20,000 people in this outdoor amphitheater, he commanded the ears, attention, and admiration of EVERY attendee.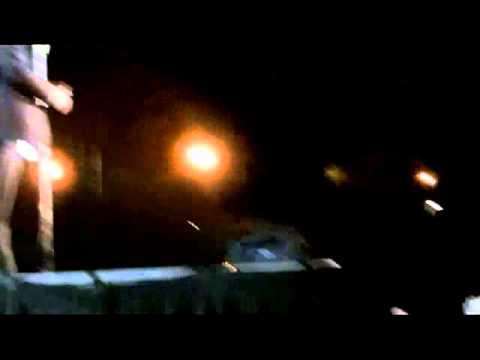 What follows is the LAST minute or two of the Man in the Moon performance. Why just this ending clip? Well, to be honest, I stopped videoing to enjoy the performance and take it all in. You see, the stage had 100 ft. of screens AND a 30 ft. diameter globe (you saw that earlier with Glenn Beck inside it). There were several projectors that were beaming images onto the screens (including the moon) – with up to 18 images being viewed simultaneously! Add in live performers – some of whom were acrobats, Beck picked up where Walt Disney left off. With a stage stocked with so much going on, I wanted to take it all in! And wow did he deliver!! 
Walt Disney is perhaps one of the greatest story tellers, and in doing so impacted our culture – I believe Beck truly has picked up the baton and I can't wait to see him run with it again. Man in the Moon is far more than a stage spectacular – it is a compelling story – and I don't mind giving away the "story line" because if anything knowing it will enhance your experience if you are ever able to see Man in the Moon as a live performance. (Video just won't do it justice.) 
The story line? A rather simple one actually, beginning with Adam and Eve, "light' is illustrated until the serpent and the apple – and as a result of Eve's decision, darkness. But, darkness is always followed by a period of light, and then unfortunately darkness. All of this is "reported" as "witnessed" by the "Man in the Moon". Very engaging, very creative, and VERY thought provoking. 
In my lifetime, perhaps the greatest societal light was seeing the full disc of Earth from the vantage of Apollo 10 as it orbited the Moon on Christmas eve 1968. A very turbulent year, but with Apollo 10 showing ALL of mankind a view of our planet NEVER seen before, I believe it brought us together – if only for a moment. 
Since then? Well YOU be the judge – and as the Moon says – where will we go from here…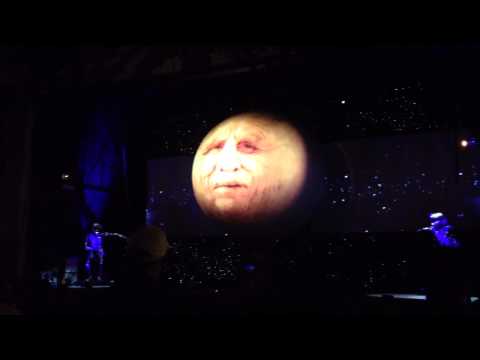 (This clip was NOT filmed by myself – but fortunately another posted it and I have linked to it)
This last clip – also not filmed by me – interviews some on the lawn before the Man in the Moon performance, and then a recap by Mr. Beck himself. Listen to his take on the event, and his vision. As I said earlier, I met him, I looked into his eyes and I find him to be genuine. I believe that Beck is planning to take Man in the Moon "on the road" – and show it in cities and towns across the nation to whomever cares to see it. I for one hope he does this as I believe more will benefit by hearing its message.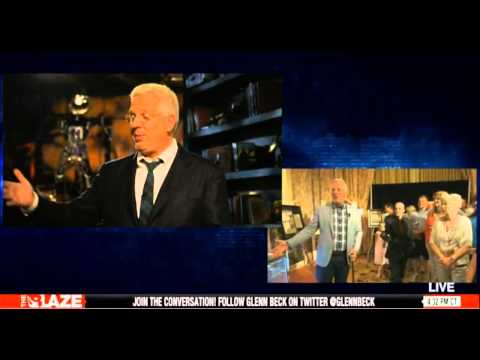 Hey… THANKS for watching and if you enjoyed it – leave a comment below…
Lastly – another man whom I respect and IS offering solutions…
His (I believe) society impacting book is coming out soon – you can pre-order it now